Science
Pillars of Creation look scary in newest JWST photograph • The Register
Pillars of Creation look scary in newest JWST photograph • The Register
The group on the James Webb Area Telescope has launched their newest photograph of the Pillars of Creation, giving it the right spooky, dusty hue for Halloween.
In contrast to the star-studded, NASA-released colour photograph of the astronomical surprise this month captured by JWST's Close to-Infrared Digital camera (NIRCam). last image exhibiting the pillars lifeless and gray, just a few stars seen via a thick mantle of mud.
The picture was taken by Webb's Mid-Infrared Instrument (MIRI), which as an alternative of capturing photos of near-infrared mild, focuses on mid-spectrum infrared mild, which NASA says is a lot better at selecting up interstellar mud.
"Mid-infrared mild makes a speciality of detailing the placement of mud, [and] Stars at these wavelengths usually are not vivid sufficient to be seen," NASA stated.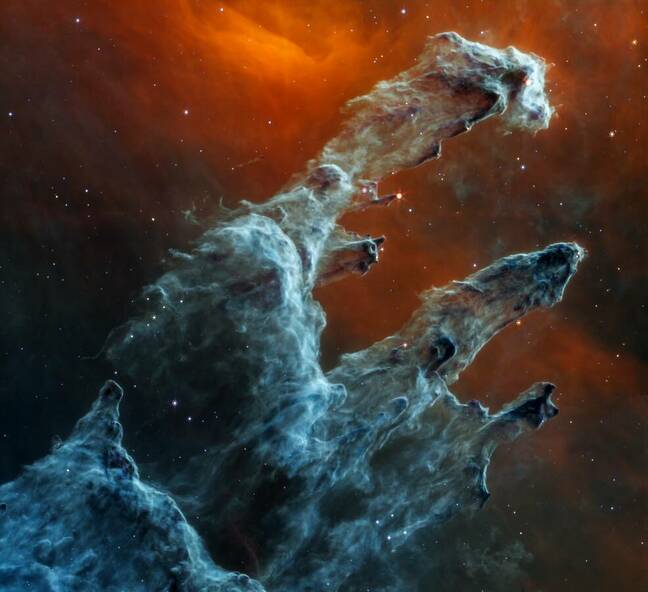 Pillars of Creation in mid-infrared mild utilizing MIRI … Supply: NASA
What the picture exhibits is essential mud, which is a significant factor in star formation, and stars which are nonetheless growing, which could be seen with their crimson tint within the MIRI picture.
"When clumps of enough mass type throughout the columns of gasoline and dirt, they start to break down beneath their very own gravity, slowly heating up and finally forming new stars," NASA stated.
The NIRCam picture exhibits the celebrities throughout their formation cycles, in addition to the jets of energetic materials ejected from the growing stars that seem like "lava" close to the information of a few of the pillars. The celebrities that emit these bursts of sunshine are estimated to be only some hundred thousand years previous.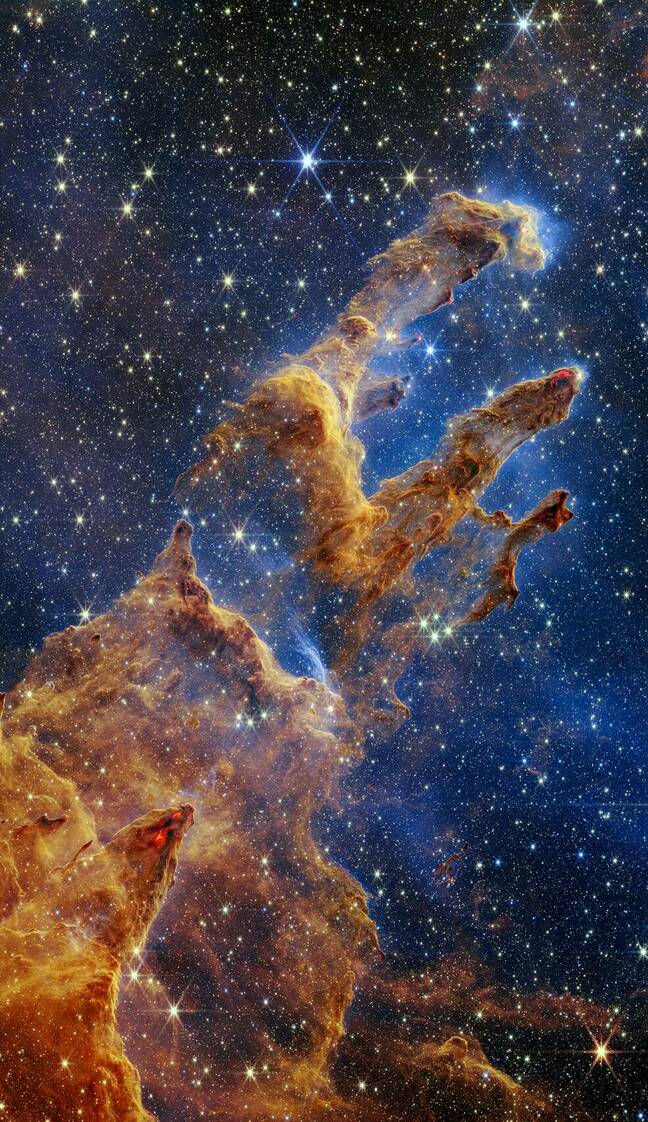 Pillars of Creation in near-infrared mild with NIRCam
For these questioning concerning the sizes of these red-tinged child stars, NASA has you coated. "Comply with the topmost pillar, land on a vivid crimson star that juts out from its decrease edge like a broomstick. This star and its dusty mantle are bigger than the scale of our total photo voltaic system."
The Pillars of Creation have been first photographed by NASA's Hubble Area Telescope in 1995 and: again in 2014 in each seen and near-infrared mild. Though the Pillars themselves are roughly 4 to 5 mild years throughout, they're a small a part of the bigger Eagle Nebula, which stretches 70 x 55 mild years. The nebula itself is 6,500 mild years away.
Beneath is a video to provide you a greater thought of ​​the place the pillars are.
NASA stated the photographs of the columns of various wavelengths of sunshine give scientists extra clues about how stars type. Based on NASA, the most recent picture is the highest-resolution mid-infrared picture taken of the pillars and can enable "extra exact measurements of the mud to create a extra full three-dimensional panorama of this distant area." ®
#Pillars #Creation #scary #newest #JWST #photograph #Register